When people are not pleased with their smiles, the problem is usually the whiteness of their teeth. Better yet, the lack of it. Brushing the teeth regularly can help with this problem, but it can't make the teeth drastically whiter. This is exactly where veneers come in. If you didn't know, putting veneers on your teeth is the best way to whiten your teeth. There are two types of dental veneers - composite veneers and porcelain veneers.
Deciding which ones to put in the most common dilemma people have regarding their teeth. Today, we are going to provide you with useful information that will help you to make your decision.
Before talking about the main difference between composite and porcelain veneers, it would be best to explain what veneers are. In dentistry, a veneer is a name for a layer of material that a dentist places over a person's tooth.
The main purpose of veneers is to improve the aesthetics of a smile. However, they are also good at protecting teeth from damage, like chipping, for example. There are two main types of material used to make a veneer - composite and dental porcelain.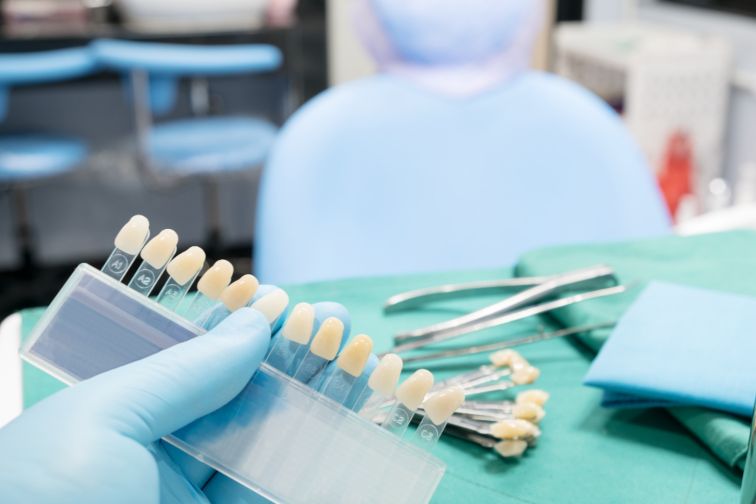 Porcelain veneers are basically thin slices of porcelain that a dentist sticks to the outer surface of the patient's tooth. On the other hand, composite veneers are made from resin and are fixed, on the outer surface of the tooth.
Even though they are made from different materials, they are made to match your teeth perfectly and provide you with a wonderful smile.
Composite vs porcelain? It's definitely a complicated choice. However, we are about to break it down and make it a bit easier.
Difference Between Composite and Porcelain Veneers
It's time for us to explain the essential difference between composite and porcelain veneers. However, in order to do that, we have to compare those two in four categories.
The Aesthetics of Veneers
Veneers Lifespan
The Price of Veneers
The Veneers Procedure Time
The Aesthetics Of Veneers
When it comes to aesthetics, one of the most important things you have to know is the fact that the translucent properties of the porcelain veneer allow it to shine as a natural tooth does. This provides you with a crispy white smile. Also, the porcelain veneers are resistant to stains. It's safe to say that this is one of the best benefits because people who put porcelain veneers don't have to whiten their teeth.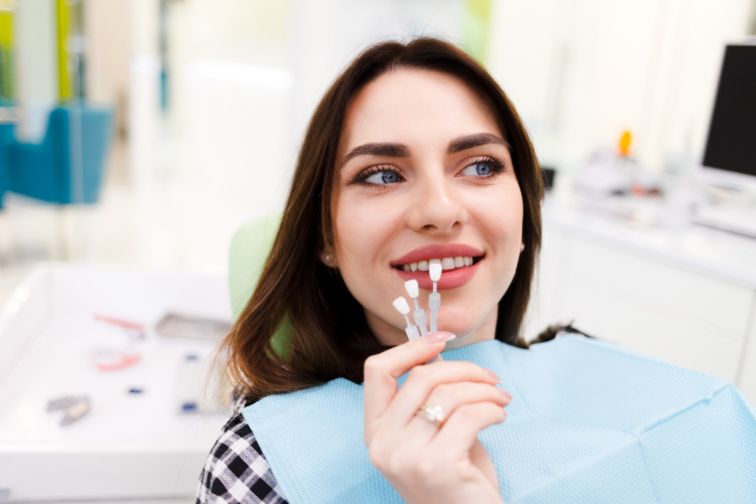 On the other hand, if you choose to put composite resin, it will stain like natural teeth. When it comes to aesthetics, the choice seems obvious.
However, the porcelain veneers are not reversible, but composite veneers are. Make sure to consider this before you make a decision.
Also, veneers should be put only on healthy teeth. Therefore, if you have crooked teeth, for example, make sure to fix that first.
Veneers Lifespan
If you take care of your teeth properly, porcelain veneers should last 10-15 years. Composite veneers have a shorter lifespan. They typically last 4-8 years. Porcelain is fragile, but once the dentist bonds it to a healthy tooth it stays there for a long time. Composite veneers are durable but not as strong as porcelain. The problem with them is that they chip easily.
One of the things you have to know is that if a porcelain veneer gets damaged, it has to be replaced. In other words, it can't be repaired. If you chip a composite veneer, the dentist will be able to repair it easily.
The Price Of Veneers
The porcelain veneers are more expensive than composite. The reason is simple, the placement of porcelain requires more time, expertise, and resources. However, once you put them on, you are done. You won't have to spend money on repairs or whitening. If you choose to put composite veneers, you will probably have to repair and whiten them every once in a while. Therefore, you shouldn't base your decision on price alone.
The Veneers Procedure Time
It is much quicker and easier to put to the composite veneers. This is because they can be made and put on your teeth in the same visit. The dentist matches the resin to the shade of your other teeth in order to provide you with a natural and subtle look. They bond the resin to your teeth, cure it, and then polish it. The veneers procedure lasts only a few hours.
If you want porcelain veneers, this will take at least two visits. The dentist has to remove a very thin layer of your teeth in order to make the mold and send it to a lab. Then, you have to wait a few days for the dentists to make the porcelain veneers. When the veneers are done, the dentist will call you to put them on your teeth.
This is not a simple choice. Both composite veneers and porcelain veneers offer a lot of benefits. It all comes down to money and patience. One thing is for sure - it doesn't matter what you choose, you will leave the dentist's office with a wonderful smile on your face.